THE DAY AND NIGHT DRESS CHALLENGE 2018: ELIZABETH MADE THIS
It feels like a big responsibility to kick off my own challenge!  I admit I've been dragging my feet on getting this written.  Perhaps it's a little bittersweet seeing all this time of planning and hard work I've put in organizing The Day and Night Dress Challenge come into full swing.  Part of me is overjoyed at seeing everyone's dresses, and part of me knows that it will all be coming to an end sooner than I'm ready for.  Sentimentality aside, I'm so excited to share my coffee and cocktails dresses today!
COFFEE DRESS: FAUX LACE COMFORT
INSPIRATION: J.O.A. RUFFLE KNIT DRESS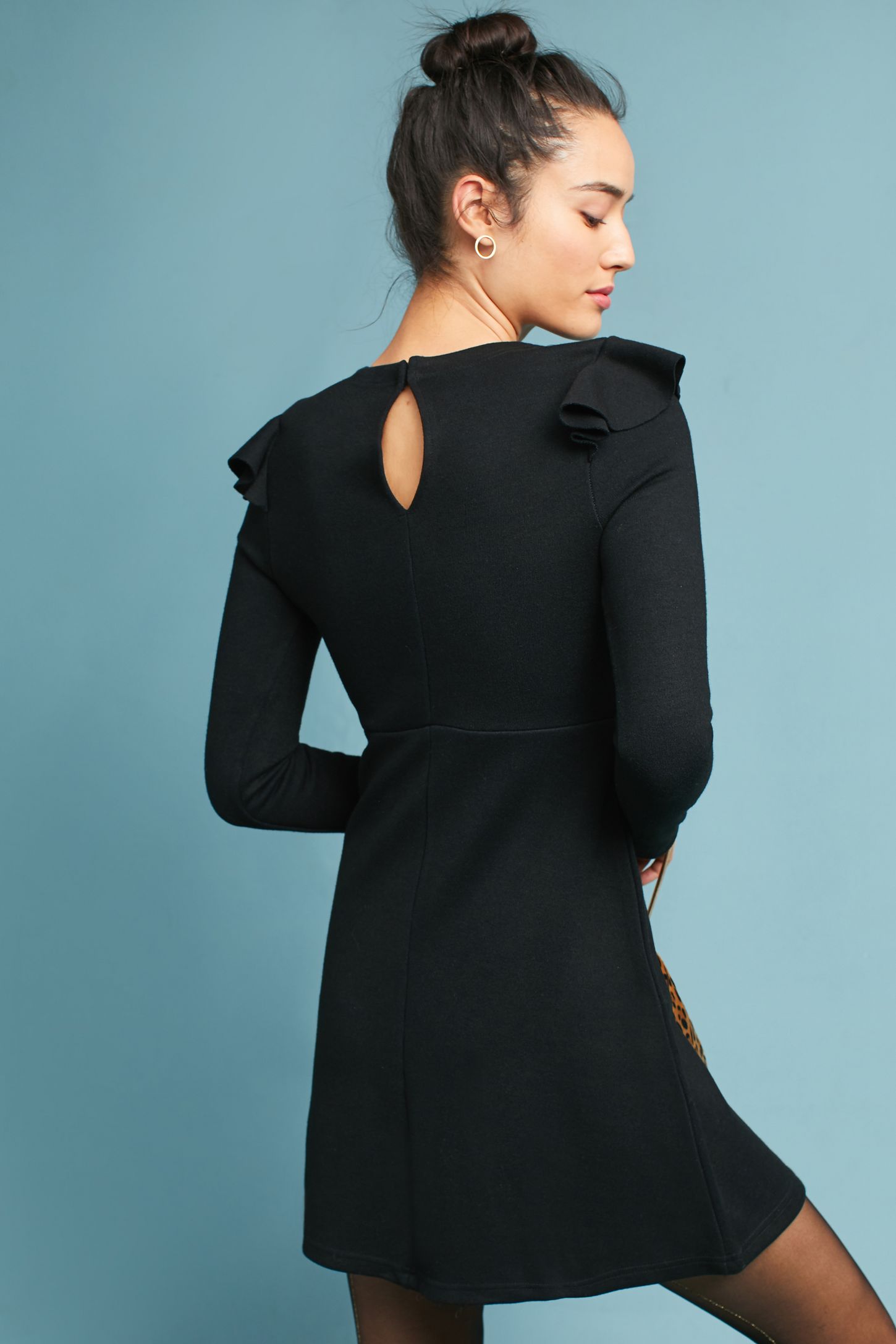 I started my thoughts for my coffee dress as I often do by perusing RTW sites to see if anything grabbed my attention.  Immediately, I found this J.O.A. ruffle knit dress on Anthropologie.  I love the simple lines and the girly details of the little flounce on the sleeve cap and the back keyhole opening.
VALENTINE & STITCH CASSANDRA DRESS
Helen of Valentine & Stitch was kind enough to provide me with a copy of the Cassandra dress.  I thought this pattern would be an excellent base for a rendition of the inspiration dress, and indeed it was.
The original dress has an A-line shape with a higher neck and scoopneck plus long sleeves.  This time of year, all I want to wear is long sleeves, and the higher neck balances the back keyhole I needed to add.  The necklines are finished off with facings.  I'm not typically a fan of facings on knit garments, but these are beautifully drafted and they do not flip out at all!  Bonus!
I did add a waist seam that's not present on the original pattern.  First I made a muslin in a cream stripe knit to puzzle out the flounce.  Next I simply marked where I wanted the waist and transferred it to the pattern, adding seam allowance on either side.
PATTERN HACKING: BACK KEYHOLE + SLEEVE FLOUNCE
BACK KEYHOLE
For the back keyhole, I used my French curve to draw a 4″ keyhole 1.25″ below the top of center back.  I simply cut that out of my back, and I extended the facing so that it would finish the edge of the keyhole as well.  The cotton spandex pulled a little when I was pressing, so the edge is a little squiffy on one side, but it's not the worst thing.
2 little shank buttons finish the top of the keyhole with 2 equally small buttonholes.  I opted for these over the hook and eyes that the J.O.A. dress.  For one, CB was a little wide on me, and that little bit of overlap helped me out.  I think the buttons add a nice little decorative touch too.
SLEEVE FLOUNCE
The sleeve flounce was super easy to add on.  It's like a little mini circle skirt with a funny edge.  A tutorial is forthcoming.
FAKEOUT LACE
Speaking of this cotton spandex, it is a print of a lace in the absolute prettiest blue on white.  I bought it when an Etsy shop was going out of business, and it's been hanging out in my stash for a couple years.  It's no secret I love lace, but to get a print that looks like lace but is actually an ultra soft and comfortable jersey is even better.  While I might feel a little overdressed going to get coffee in a true lace dress, this one is perfect for everyday.  When the weather gets warmer, I will no doubt be pulling out my peach Converse or sandals for this one!
FAUX FUR MOTORCYCLE VEST
I'll save this jacket for its own post, but I'll offer a quick summary here.  This time of year our weather is still extremely variable.  The last 3 days alone the temps have been from 0° with buckets of snow to 66° with nasty blow you over kind of wind–literally.  My camera bag blew off a bench on attempt 1 in shooting the cocktail dress!  As such, layering pieces are really really smart.
I still wanted to be able to show off the sleeve flounces, so I opted for a vest.  While organizing my stash I  came across this wacky faux fur and instantly knew that I wanted to sew the vest in that.  A little rib knit from a sweater for the collar, bindings, and hem and about 2.5 hours later, I had a full vest.  It is surprisingly warm and the absolute perfect weight for this time of year.  I might be wearing this with everything.
Like my cocktail dress too.
COCKTAIL DRESS: PLAYING WITH LACE
In thinking about what kind of cocktail dress I wanted to make, my mind instantly went to Nanette Lepore's Varsity Lace Dress.
I saw this almost a year ago and have wanted to make my own version since then.  The combination of the aqua lace in sleeveless shirt dress style with the sweetheart slip dress in vivid orange beneath is such a fresh look.  And the pleated skirt, with the bias trimmed edges hanging exposed for contrast is too cool of a detail.  While it's not a traditional cocktail dress, the definition of cocktail dress has shifted considerably over time.  Can this dress take you to a nice dinner out or a semi-formal occasion?  I think absolutely.  So here's how I broke it down:
FABRIC: SEAFOAM DAFFODIL LACE AND CORAL INTERLOCK
Stylish Fabric very generously supplied me with my fabric for this dress.  If you'd like to make your own project with the same lace, Stylish Fabric is offering 25% off of the Seafoam Pale Daffodil lace.  Just use the code, "Elizabeth" upon checkout.
At first glance, using coral underneath the seafoam seems like quite a bonkers choice, but this to me is one of my absolute favorite things about the nature of lace.  It can completely change character depending on what fabric you put behind it.  With a fabric the same color, it's a subtle tone-on-tone effect.  Add white behind it, and you see the outline of the pattern more clearly, yet softly.  But against the vivid pop of the coral, the lace suddenly jumps out in bold contrast.
It looks like the inspiration dress uses some kind of woven fabric for the slip dress.  I chose the coral interlock because I wanted a softer look and feel.  The interlock is no doubt more comfortable to well and it matches this drapey nylon lace well.  I pretty much want to buy this interlock in every color now.  It was so easy to work with and it didn't warp or run like poly interlocks sometimes can.  This would be an awesome lining for just about any dress.
LACE BODICE: DESIGNER STITCH KRISTEN DRESS
For the bodice of the lace dress I used Designer Stitch's Kristen Dress.  I was really impressed when I made my rayon version how well the sleeveless bodice fit me.  99.999% of sleeveless bodice patterns out there have armholes that dip down too low for me on the side.  This pattern has been the closest right out of the gate for me.  Without the sleeve, there's about 3/8″ I'd rather cover up.
The simple fix I used was to cut the pattern as is and use bias tape cut from a soft poly satin from JoAnn to bind  the edges right at the raw edge.  Since the bias sits flush at the edge, there's no seam allowance taken up.  This gives me an extra 3/8″ of coverage all the way around the sleeve which was perfect for me and my short upper torso and arms.  Bonus–the tiny extra width at the shoulder shows off the lace and the slip a little nicer too.
FORK PLEATED SKIRT
The skirt is a giant rectangle of lace 75″X25″.  First, I trimmed the top with bias tape.  Trimming it first was a really smart idea as it gave the lace a lot more stability under the machine during the pleating process.  The original dress has accordion pleats.  This particular lace being nylon will not hold a proper press, so accordion pleats were out of the question.  I opted for simpler but no less effective fork pleats.
I've used this technique before to make trim for this tunic , and I walk you through the whole process in my video for my dresses.  The weight of the trim was too much for the pleats to sit nice and orderly on their own.  I enclosed the seam behind the pleated trim and hand stitched the pleats down from the backside so that the trim sits straight.
SLIP DRESS
The slip dress uses the bodice from Burda 5-2007-124.
The 4 paneled front makes for an excellent fit, and it is surprisingly not to low either in front or on the side.  On its own, this would be the quintessential summer dress.  I used a very firm beige poly spandex as the lining for the bodice.  There's a slip in my closet made from the same fabric, and the support is provides makes it practically shapewear. Powermesh was another option to line it, but the spandex was a simpler, probably better choice in this instance.
I used the skirt portion the Cassandra dress for the skirt on the slip with the same narrowed width I used in my coffee dress.  The combination of these two patterns will make a good TNT slip pattern for me.
EXTRA TRIM
The rows of bias tape at the hem are not on the inspiration dress, but I think they add a lot.
PAINTING THE BUTTONS AQUA
To get the plackets, I subtracted from the Kristen bodice the width that I wanted and made two long button bands for either side.  I was running out of time to finish my dress and get it photographed, so driving across town to find the right buttons at Colorado Fabrics probably wasn't going to happen.
Instead, I took basic wood buttons and painted them with acrylic paint.  They're finished with 2 coats of varnish.  I'm rather curious to see how they hold up.  Cover buttons are always a nice choice in general for perfectly matching buttons, but on lightweight fabrics, they don't always work too well.  Painted buttons definitely open up more possibilities. Oh, I painted my shoes too.  They used to be black.
SO THOSE ARE MY DRESSES, HOW ARE YOURS COMING ALONG?
KEEP WATCHING HERE ON ELIZABETH MADE THIS   AND ON YOUTUBE BETWEEN NOW AND FEBRUARY 28TH FOR MORE AMAZING DRESSES FROM THIS WONDERFUL GLOBAL CREW OF SEWING BLOGGERS AND VLOGGERS I'VE ASSEMBLED!  
WANT TO JOIN IN THE FUN YOURSELF?
Sew some dresses!
Let other people know about it.  Use #dayandnightdresschallenge on Twitter and Instagram and follow the Day and Night Dress Challenge Facebook group.
Post a picture of your day look (coffee) and your night look (cocktail) to Instagram to enter yourself.  Don't forget to tag me @elizabethmadethis and use the #dayandnightdresschallenge.
Grab a graphic and post it on your site and/or repost on Instagram